Summary
Published on: 19 Jul 2022
Vacancy: Not specific
Employment Status: Full-time
Experience: At least 8 year(s)
Age: Age 28 to 40 years
Location: Narsingdi
Salary: Negotiable
Application Deadline: 18 Aug 2022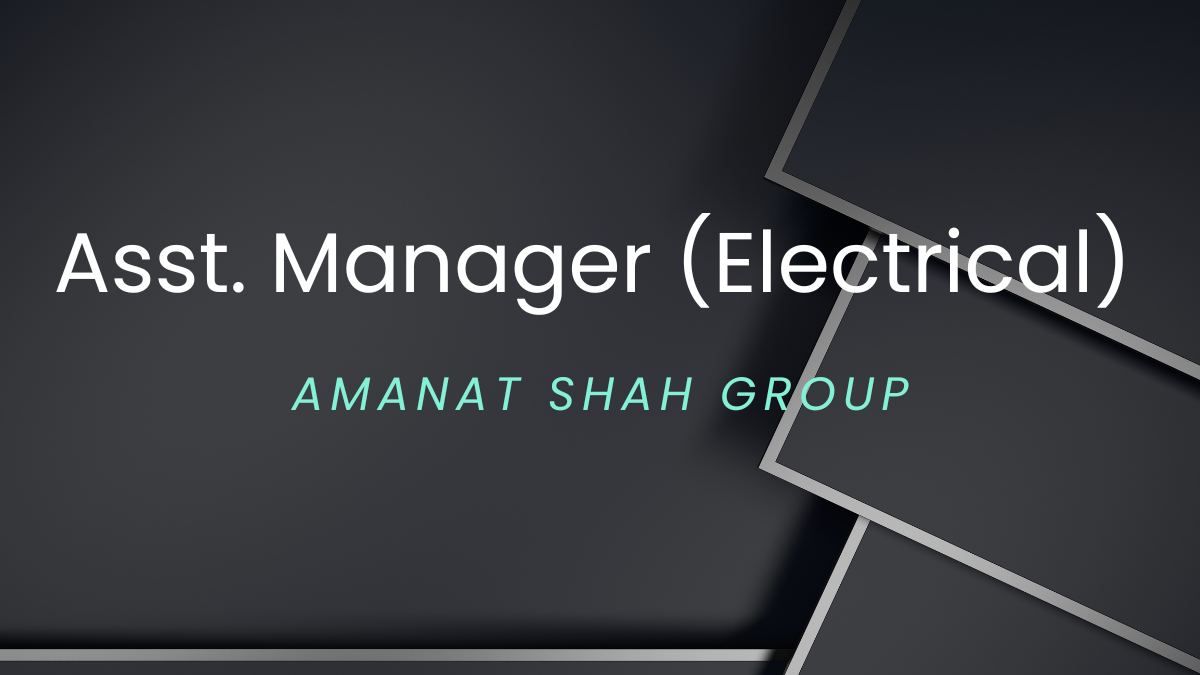 Asst. Manager (Electrical) at Amanat Shah Group
Context
Candidates for the position of Assistant Manager should be proactive, enthusiastic, and analytical (Electrical). The successful candidate will have the initiative, experience and motivation to deliver superior results.
Your Responsibilities
Must possess a thorough understanding of Textile (Rotor Spinning Mills) machinery.
Ensure that all electrical equipment is functional and maintained in accordance with the specifications.
Regularly evaluate electrical systems, equipment, and components in various workplaces to discover dangers, faults, and the need for modification or repair.
Ensure that a comprehensive preventive maintenance plan is designed and followed to through routine maintenance tasks.
Solid understanding of how to assemble, install, test, and repair electrical and electronic wiring, equipment, appliances, and fixtures.
Scheduling the delivery and installation of machines, switchgear, cables, and fittings.
Capable of finding electrical faults and installing electrical equipment.
Create a preventative maintenance schedule to minimize electrical failure-related downtime.
Ensure preventative maintenance of boilers, generators, and all compressors for un-distributed supply, and formulate a plan for the inverter, motor, electrical panel board, and plc, among other components.
Ensure regular maintenance of all control panels and DB Boards to reduce breakdowns.
Maintain effective communication with the Mechanical Engineering services in order to optimize the maintenance process.
Responsible for the overall electrical maintenance of the factory, including the substation and other gear.
Able to create electrical diagrams and comprehend all-electric diagrams.
Status of employment: Full-time
Educational Requirements: Bachelor of Science (BSc) in Electrical Electronic Engineering and
Diploma in Electrical Engineering from any Reputed Institution.
Experience Requirements:
At least 8 year(s)
Candidates need to demonstrate experience in at least one of the following areas: electrical engineering in factory settings
The applicants are expected to have prior experience working in the industry(s) listed below: Textile
Extra Needs:
Within the range of ages 28-40
Experience working at a reputable Rotor Spinning Mill for a minimum of 8 years.
A background in one or more of the following areas of business is preferred among applicants:
Material for Fabric Use (Rotor Spinning Mills).
Must be able to work effectively with others and demonstrate initiative, organization, and attention to detail.
Willing to work any shift that comes up.
Salary: Negotiable
Pay & Additional Benefits
T/A, mobile phone bill Annual salary review. Festival Bonus (2), Provident Fund, In accordance with corporate policy
Company Information
Amanat Shah Group
Address : City Center, 23rd floor 90/1, Motijheel C/A Dhaka-1000
Web : https://www.asg-bd.com/
Business :
In 1983, Amanat Shah Group became identified with textile quality, expertise, and confidence. ASG is a diversified firm that makes high-quality yarns and fabrics. ASG has provided excellent products to major brands and merchants for over 40 years.
Its quality items have won many national honors and are exported. Its journey began with M/S Helal and Brothers, the manufacturer of Amanat Shah Lungi, Standard Lungi, Standard Sharee & Standard 3-piece, and flourished with the smart inception of Hazrat Amanat Shah Spinning Mills Limited in 2004, Amanat Shah Weaving Processing Limited in 2012, and Amanat Shah Fabrics Limited in 2017.
These trademarks are popular at home and internationally and have become the face of the company, which manufactures yarn, greige fabrics, finished fabrics, lungi, salwar kameez, sharee, and fashionwear.
We want to climb higher. Creating jobs and recruiting additional employees is a top priority. We wish to be the biggest employer to improve our economy through resource distribution. Our goal is to expand nationally and globally.
To attain our mission, we've started integrating quality, ethics, and modern equipment and personnel. Our company proudly flies the national flag abroad. We're proud of our commitment to improving our products and services. Local and worldwide brands appreciate our services. We aspire for outstanding performance and long-term leadership in the textile sector. This will be done through high-quality raw materials, operating efficiency, customer care, cost-effectiveness, and R&D.
Amanat Shah Group of companies strives to be safe and environmentally friendly. Commercial success and sustainable expansion depend on the Group's talent research, development, and retention.