Summary
Published on: 20 Jul 2022
Vacancy: Not specific
Employment Status: Full-time
Experience: At least 2 year(s)
Age: Age 24 to 30 years
Gender: Both males and females are allowed to apply
Location: Dhaka
Salary: Tk. 50000 – 80000 Monthly
Application Deadline: 19 Aug 2022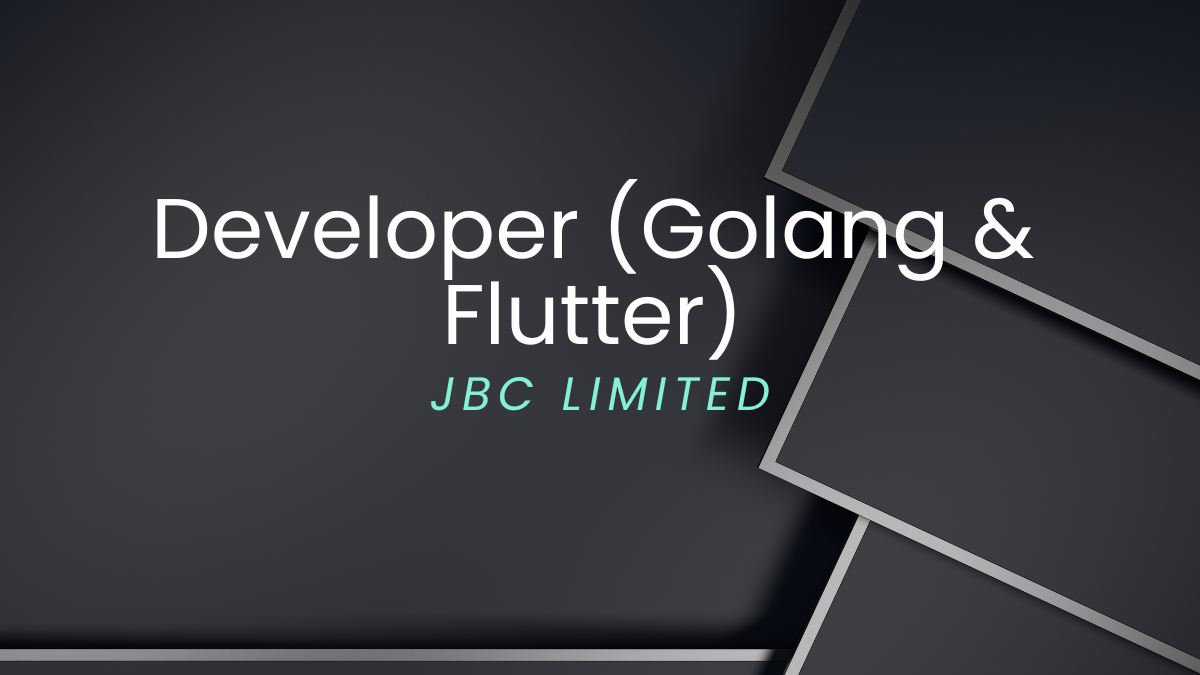 Developer (Golang & Flutter) at JBC Limited
Context
To keep up with our rapid expansion, we need to add a skilled Golang Developer to our team. Working with other designers, you'll come up with engaging and attention-grabbing visuals and marketing campaigns to expand our clientele.
We expect you to put your enthusiasm for Golang Developer to work for us.
Our rapidly expanding team needs the expertise of a full-time Golang programmer.
Working with the rest of the technical team, you'll roll out and keep running a piece of software that does all it's supposed to. We believe that your enthusiasm for software engineering can lead you to develop innovative and compelling user experiences.
You'll be responsible for managing code repositories in places like GitHub, as well as any other internal server storage components.
JB CODERS LTD. is the location.
Dhaka, Bangladesh, 1216; 965 Begum Rokeya Shoroni, 7th Floor, East Shewrapara, Mirpur.
Web:http://www.jbc-corp.com
Your Responsibilities
What follows is a partial list of what a Golang developer is required to do:
Use Amazon Web Services (AWS) containers to facilitate Go deployment and smooth repository management.
Put Kubernetes to work for you so that you may build, deploy, and scale your applications without any hitches.
OR
For easier deployments of smaller applications, consider using Docker.
Use command structures in Linux Terminal to make back-end operations simple for less-experienced technical workers.
React will be used to structure our user interface, and on-demand REST API access will be made available to our business banking clients. Maintaining a consistent and streamlined DevOps workflow requires close collaboration with other technical employees. Pick and use alternative JavaScript. libraries that improve efficiency without compromising security or core functionality.
Take charge of several tasks while keeping costs and design goals in check.
Build in checks for mistakes.
Apply suggestions and alterations whenever practical.
Construct visuals that successfully communicate the project's intended message.
Employment Status: Full-time
Workplace: Work at office
Experience Requirements: At least 2 year(s)
Extra Needs
Job Requirements and Preferred Abilities: We welcome applications from both men and women.
Verifiable skills in the Go programming language.
Superior abilities in both written and oral expression.
Candidates should have at least two years of professional experience in computer programming or information technology.
Paying close attention.
You should probably know what flutter is.
Showcase technical proficiency with a portfolio of your work.
Capacity for deep analysis.
Managing one's time and resources effectively.
Familiarity with Go, along with standard frameworks and tools.
Compelling evidence of teamwork experience.
Qualifications:
Produced at least two mobile apps (iOS/Android) using Flutter. Available on Github or released to the App Store or Google Play.
Experience developing apps for mobile devices is a must.
Mobile Flutter app development took more than a year.
Familiarity with using external resources like APIs and libraries.
familiarity with the Agile software development methodology.
the ability to test and construct automatically.
Knowledge of version control systems such as Git, Subversion, or another tool.
Demonstrated ability to write understandable code, explain code in depth, and refactor existing code.
Experience with deploying and using Flutter 2.0 or higher is preferred.
Advantageous.
skills in Go/Swift, familiarity with the Android Keyboard API, and practice fine-tuning app layouts for Material Design are all pluses.
Workplace: Dhaka (Mirpur)
Salary range from Tk. 50,000 to $80,000 per year (Monthly)
Payments and Perks

Spending money, a credit card, and insurance coverage
Areas for Having Lunch: Subsidize Completely
Increase by 2 Bonus Points for the Festival
Please read
*Photograph must be enclosed with the resume.
Email
Send your CV to [email protected]
The deadline for applications is August 19, 2022.
Company Information
JBC Limited
Address : 965(7th floor), East Shewrapara, Mirpur, Dhaka -1216