Summary
Published on: 21 Jul 2022
Vacancy: 01
Employment Status: Full-time
Experience: At least 4 year(s)
Age: Age 40 to 50 years
Location: Dhaka
Salary: Negotiable
Application Deadline: 31 Jul 2022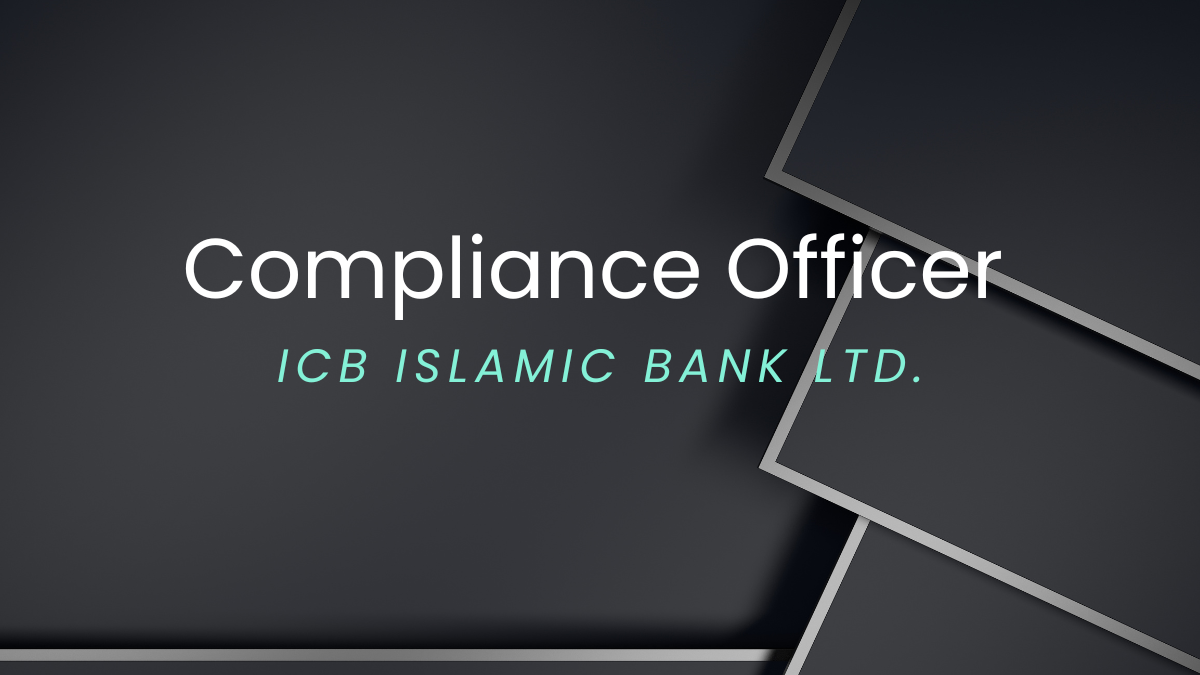 Compliance Officer at ICB Islamic Bank Ltd.
Context: The Internal Control & Compliance Division of an Islamic bank based on sharia law is looking for a proactive candidate.
Your Responsibilities
Assemble and monitor all required reports for the Bangladesh Bank on a regular basis, including Core Risk Inspection reports, Self-Assessment reports, DBI-4 reports, and others.
Get ready for the Bangladesh Bank audit of the various Branches and follow all of their instructions to the letter.
Our APD, FAD, Recovery, AML, IRM, ID, Foreign Exchange, Operations, IT, HR, and IASD departments, as well as the rest of our headquarters, were audited by the Bangladesh Bank, and we need to make sure that everything goes well.
Assist and keep an eye on all of the branches' Monthly Operational Activities/Certificates and Internal Audit Reports to ensure they are being followed.
Create a variety of statements on a regular basis (monthly, quarterly, semiannually, etc.) such as fraud forgery statements, deposit and investment statements, Sylhet Zone statements, Jall Note statements, and others.
Provide support to the Internal Auditing team and other departments as needed.
Status of employment: Full-time
Needed Level of Education
Master's degree in any field or Bachelor's degree in Business Administration/Commerce from an accredited institution.
An advantage will be given to those who are CA, CMA, or even partially qualified.
A candidate needs a CGPA of 3 (on a scale of 4) or a minimum of a 2nd class in order to be considered.
Required Level of Experience: A minimum of 4 years (s)
Extra Needs
Around 40-50 years old
Candidate requirements include a minimum of 2 years of audit experience at reputable banks or financial institutions.
Comprehensive understanding of banking concepts, including credit, FX, AML, etc.
Expertise in market risks, financial instruments, International Institute of Auditing Standards, risk management, etc.
Superior abilities in interacting and presenting with others
Competent in analysis and a natural leader
Expertise in using Microsoft Office products like Word, Excel, and PowerPoint
Work ethic and the ability to perform under stress
Workplace: Dhaka
Salary: Negotiable
Payments and Perks: According to Bank policy, we provide a competitive pay and other benefits.
Please Read
Please click "Apply Now" if you're up for the task.
You can also email your most recent resume to "[email protected]," along with a passport-sized photo and a cover letter indicating the position you're applying for.
When it comes to hiring, ICBIBL does not discriminate.
The interview process will only proceed with those candidates who make the final cut.
It is not possible for the candidate to be considered if they have been influenced in any way.
ICBIBL may approve some or all applications without providing an explanation.

Email
Send your CV to [email protected]

The deadline for applications is July 31, 2022.
Company Information
ICB Islamic Bank Ltd.
Address : T.K. Bhaban (15th Floor), 13-Kazi Nazrul Islam Avenue. Kawran Bazar, Dhaka-1215.
Web : www.icbislamic-bd.com