Summary
Published on: 25 Jul 2022
Vacancy: 01
Employment Status: Full-time
Experience: At least 5 year(s)
Age: Age 25 to 35 years
Location: Dhaka
Salary: Negotiable
Application Deadline: 24 Aug 2022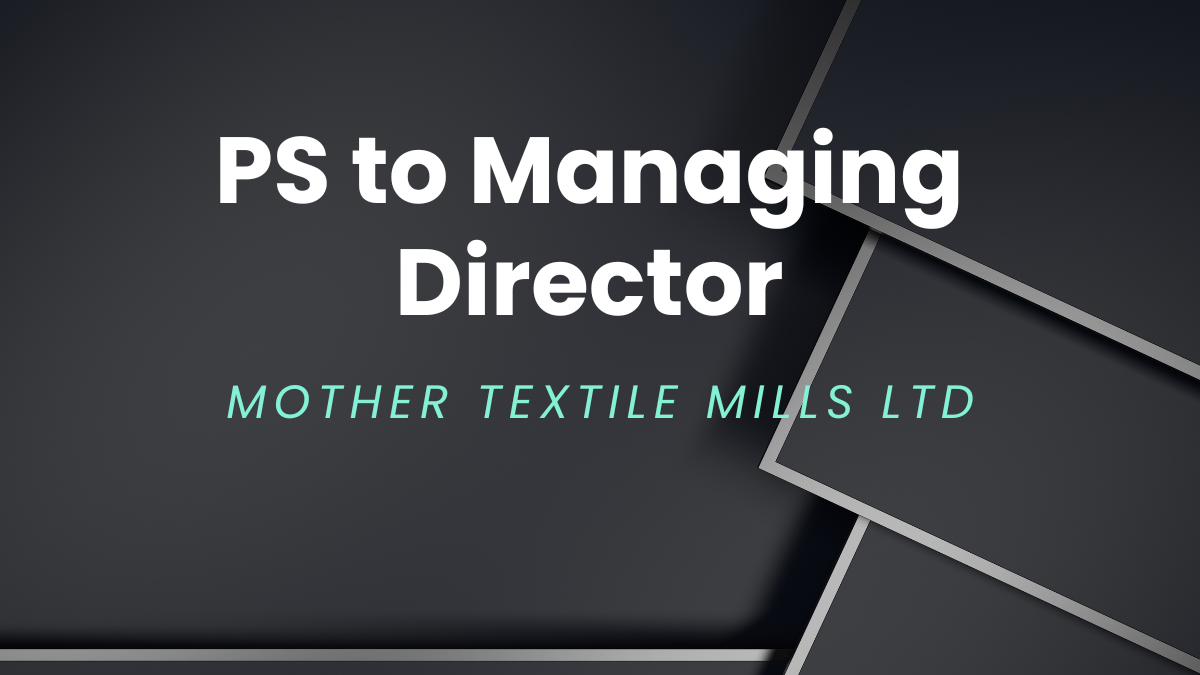 PS to Managing Director at Mother Textile Mills Ltd
Your Responsibilities
Depending on their position, the chosen applicant will be accountable for.
Assist the Managing Director by doing secretarial duties.
Work in tandem with the upper management and any other relevant teams as needed.
Letters from the Honorable CEO via Electronic Mail.
Produce a number of reports for the Managing Director.
Steps to be taken in response to open, significant issues.
Aid the Managing Director in his/her interactions with other top officials.
Anything else the MD needs done.
Status of Employment: Full-time
Needed Level of Education: Must be Honours & MA in English Department from Dhaka University.
Possible Experience Needs: At least 5 year(s)
Additional Necessities
25 years old to 35 years old.
Excellent verbal and written communication skills, as well as familiarity with Microsoft 365 are required (Word, Excel, PowerPoint, Outlook, etc.).
Outstanding abilities in both verbal and writing communication (English & Bangla).
Exceptional talents in organization and managing one's time effectively.
Typing abilities in both Bangla and English are necessary (at least 25 words per Minute for Bangla and 30 words per Minute for English).
Capable of working under intense time constraints.
Approach to the resolution of issues that is proactive.
Capacity to multitask while preserving the strictest levels of confidentiality.
Location: Dhaka
Salary: Those who are qualified for the aforementioned position will be offered a competitive wage, as well as the chance to advance their careers and earn a better starting salary.
Payment and Perks: As per Company Rules.
Please Read
The envelope containing application should be marked with the position applied for.

Email
Send your CV to [email protected]

Hard Copy
Interested candidates should email a complete biodata, 3 pp-size photos, and attested copies of educational/experience certificates to the Managing Director, Mother Textile Mills Ltd. Sena Kalyan Bhaban (15th Floor), 195, Motijheel C/A, Dhaka-1000.
The deadline for applications is August 24, 2022.
Company Information
Mother Textile Mills Ltd.