Job Summary
Published on: 25 Jul 2022
Vacancy: Not specific
Employment Status: Full-time
Experience: At least 3 year(s)
Age: N/A
Location: Dhaka, Dhaka (Gulshan)
Salary: Negotiable
Application Deadline: 3 Aug 2022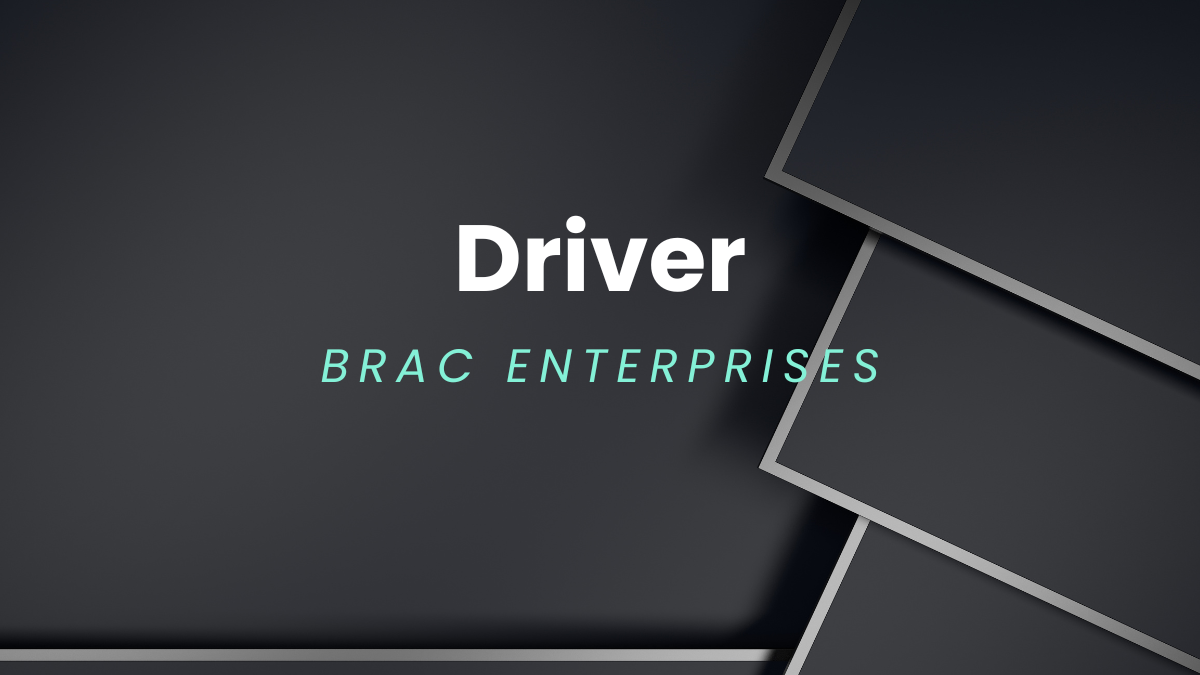 Driver (BRAC Seed & Agro Enterprise) at BRAC Enterprises
Context
In order for BRAC Seed and Agro Enterprise's operations to get forward more quickly, skilled and qualified individuals will be selected to fill the role of Driver (BRAC Seed and Agro Enterprise). Candidates who are interested in applying are encouraged to do so.
Your Responsibilities
ensuring the secure transportation of cars for official and business purposes, as well as at the request of certain representatives.
Attending the office on a daily basis at the allotted time in order to verify that the allocated vehicle is properly cleaned, maintained, and equipped with essential components such as brake horn lights, fuel, and lubricant, etc.
ensuring that the vehicle log book and any other documentation are always brought up to date.
Assisting the Admin Officer in ensuring that all vehicle documentation are correctly kept and that the insurance on each vehicle is brought up to date in accordance with the registration schedule
Make sure you obey the laws of road traffic.
Status of Employment: Full-time
Needed Level of Education
To pass the eighth class.
Competencies Needed: Moderate
Obtaining a driver's license is the recommended professional certification.
Training/Trade Course: training specifically pertaining to driving
Possible Experience Needs: At least 3 year(s)
Location: Dhaka, Dhaka (Gulshan)
Salary: Negotiable
Payment and Perks: Employee Security, Health & Life Insurance, Festive Allowance, Provident Fund, Anutosh and others
Please Read
Cover letter and envelope should include job title. Internal candidates must apply through proper channels. Contacting selected candidates. BRAC employs EOF.
BRAC believes its workers, affiliates, program participants, and the public have the right to be protected from injury, oppression, neglect, harassment, and exploitation. BRAC encourages human dignity and inclusion regardless of age, race, religion, gender, handicap, group, or socioeconomic identity. As an equal-opportunity employer, we urge women to apply. Disability applicants are welcome. BRAC encourages everyone to reach their potential.
Personal communication disqualifies a job candidate.
*Photograph must be enclosed with the resume.
Hard Copy
If you consider yourself eligible for the mentioned post, please send your CV along with cover letter mentioning the name of the post to BRAC Human Resource Department, BRAC Centre, 75 Mohakhali, Dhaka-1212.
The deadline for applications is August 3, 2022.
Company Information
BRAC Enterprises
Address: BRAC Centre, 75 Mohakhali, Dhaka – 1212
Web: enterprises.brac.net
Business: BRAC Enterprises, a social entrepreneurship and investment division, was formed to help disadvantaged producers gain market access. BRAC Enterprises aims towards double/triple bottom lines by balancing financial and social returns. BRAC implements its vision to serve society profitably by operating as a surplus-generating enterprise that alleviates poverty through its business operations and supply chain. These socially successful firms in crafts, agriculture, livestock, poultry, fisheries, health, and retail are creating market linkages, entrepreneurs, and employment possibilities for the local economy.