Summary
Published on: 21 Jul 2022
Vacancy: 65
Employment Status: Full-time
Experience: N/A
Age: N/A
Location: Anywhere in Bangladesh
Salary: Negotiable
Application Deadline: 19 Aug 2022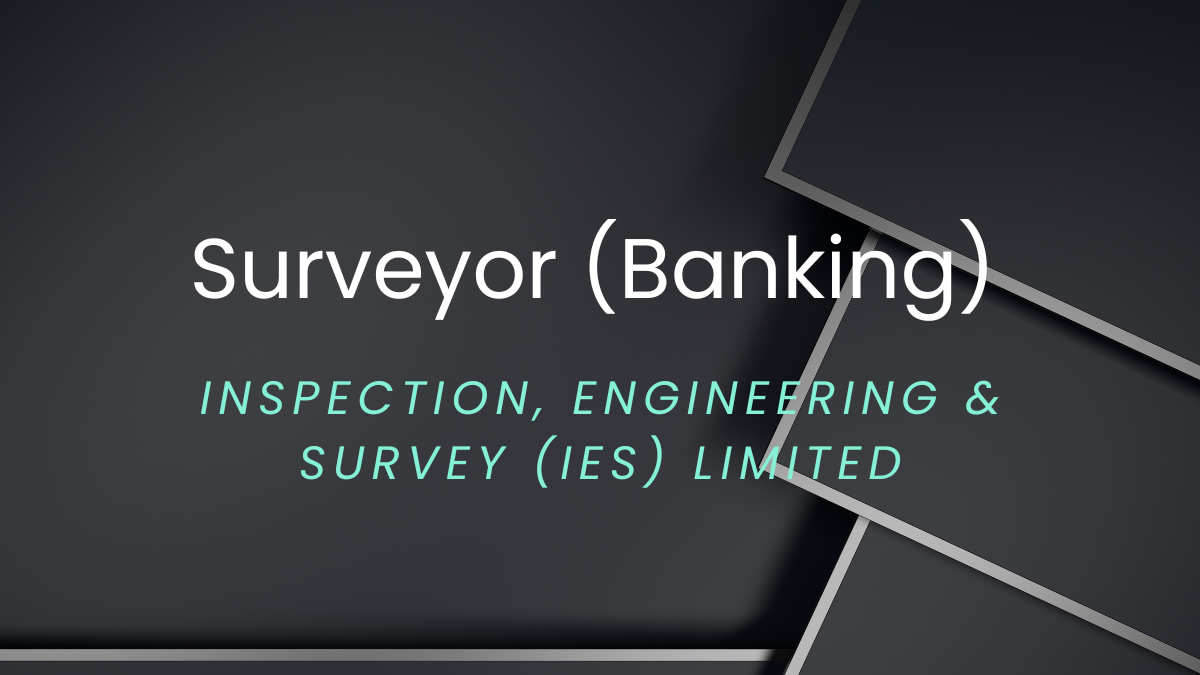 Surveyor (Banking) at INSPECTION, ENGINEERING & SURVEY (IES) LIMITED
Context
In Bangladesh, the Survey and Valuation company known as IES Limited has earned an excellent reputation. It is
Collaboration with more than 30 banks and financial institutions IES Limited is responsible for, among other things, collecting work orders from banks, conducting surveys and valuations of land, machinery, buildings, apartments, and vehicles, as well as providing related services and reports.
The organization offers a once-in-a-lifetime chance to establish a successful professional path in one's life.
Every successful applicant will get extensive training at the hands of the organization, which will prepare them to perform survey work.
There are more than 65 open positions immediately available around the country of Bangladesh.
Your Responsibilities
Gather work order information from the Bank.
As requested by the Bank or Financial Institution, visit the land, buildings, and any other properties.
Preparation of reports in accordance with the formats required,
Comprehending the mouza map as well as all types of deeds and paperwork pertaining to land, buildings, and apartments, among other things.
Comprehending a wide variety of legal papers, such as C.S., S.A., R.S., B.S., mutation, Bia Deed, DCR, GRR, Porcha, and Mouza Map, amongst other things.
Inquiring about the Mouza Rate as well as the current market price of land and property
Establishment of a rough estimate for the costs associated with the civil work, etc.
Needed Level of Education
High School Diploma or Graduate from an accredited university with a passion for surveying
Applicants with a B. Sc. or Diploma in Civil Engineering will be given more consideration.
Those with at least a year of experience working as a surveyor for a farm can get by with less formal education.
Extra Need
Anyone, male or female, can submit an application.
The ability to use Microsoft Office Word and Excel.
Must be fluent in both reading and writing English.
The Employment Contract has a duration of 2.5 years.
Work location: Anywhere in Bangladesh
Salary: Negotiable
Please Read
*Photograph must be enclosed with the resume.
Walk In Interview
Time: 11:00 AM – 04:00 P.M
You are requested to directly Interview session in our registered office
INSPECTION ENGINEERING & SURVEY (IES) LIMITED
08, D.I.T. Ex Ave, 6th Floor, Manjuri Bhaban, Motijheel C/A, Dhaka, Contact: 01678-773458
* The company will train up every selected candidate and will make them capable for Survey work.
Send your CV with application to [email protected]
Contact: 01678-773458
Website: www.iessurveyvaluation.com
Company Information
INSPECTION, ENGINEERING & SURVEY (IES) LIMITED