Summary
Published on: 24 Jul 2022
Vacancy: 01
Employment Status: Full-time
Experience: At least 3 year(s)
Location: Khulna (Rupsha)
Salary: Tk. 31793 – 33383 (Monthly)
Application Deadline: 6 Aug 2022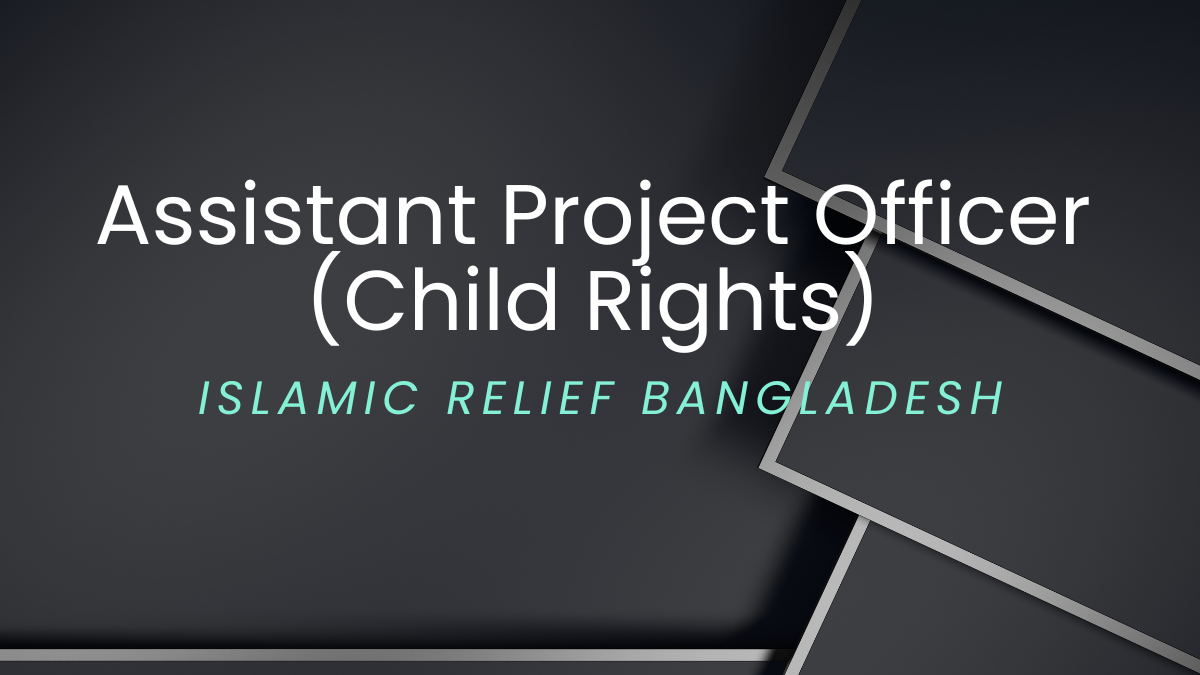 Assistant Project Officer (Child Rights) at Islamic Relief Bangladesh
Context
For vulnerable children in Bangladesh, both orphaned and non-orphaned, Islamic Relief is conducting a Child Rights program with a variety of services. By implementing the United Nations Convention on the Rights of the Child, we help make the world a better place for kids to grow up in by making it more child-friendly and safe (UNCRC). Under this umbrella, we manage a number of programs.
Adopt-a-Child Initiative
For orphans, it is important to place an emphasis on a community-based strategy that prioritizes family and to provide them with the resources they need.
Ensure orphaned children's families have access to long-term, stable means of subsistence.
Help orphaned kids and their families get the medical attention they need.
Help the 7,000 orphans in this country
Our "ALO" model won the "innovation" category of the 2019 "BOND International Development Award" in the United Kingdom.
Your Responsibilities
Implementation and management of field activities-40%
Implement project/annual field activities;
Identify entry points and supports for effective implementation to achieve intended results.
Ensure logistics and quality of training/workshops/meetings/project-related events in conjunction with the local procurement committee.
Create event concept notes
Select beneficiaries/project participants using policy criteria;
Help collect data about post-sponsored children and share it;
Ensure all program manager requirements for finishing the agreement between the orphan's family and IR are met;
Verify new orphans' bank account details and submit to IRCO;
Visit each orphan family at least once a year to collect well-being information and see how the project is transforming their life at the community level.
Ensure excellent APRs by the program's deadline and follow Al-yateem rules;
Assess SHGs once a year;
Maintain Qard-al-Hasana and monitor SHG savings.
Plan IGAs for all sponsored children's families;
Monthly send program management continuation and termination requests;
Update sponsorship details in Al-yateem;
Ensure Child Club monitoring and follow-up;
Send program management guardian change requests with justification and rationale;
Ensure orphan's assessment every three years and save necessary information in file using IRW-prescribed score system.
Evaluation, monitoring Knowledge Management-15%
Ensure daily observation, monitoring, and follow-up of all field operations in the annual action plan and directed by program management;
Regular team meetings and knowledge sharing support optimal program implementation.
Assist program management and MEAL team with research, data collecting, impact evaluation, and quality implementation;
Make the CRM (Complaint Response Mechanism) operational and monitor it periodically; disseminate other government hotlines (999, 333, 109);
Regularly review programme risks and share mitigation strategies with management;
Manage external and internal audits and agency enquiries about field offices as needed;
Finance-5%
Bill, vouchers, PR, money requisition, cash advance, etc.) using organizational tools & system;
Maintain monitoring of grant payment to direct beneficiaries and other contractual parts of the program, and ensure financial reports meet programme management requirements.
Management & Capacity Building-10%
Manage, oversee, and mentor field workers as needed;
Ensure field staffs' capacity to offer qualitative output and acknowledge their performance (annual performance appraisal, daily attendance, field movement record) at least bi-weekly;
Identify learning & development gaps and fill them in cooperation with program management and HRM&D;
Ensure employee accountability for their responsibilities and to IR
Advocacy, networking, and communication-5%
Represent IR to government counterparts on the ground and create trust with key agencies per programme management instruction;
Build networks and collaborate with local civil society movements for local advocacy in collaboration with program administration, external relations, and communication.
Reporting and documentation-15%
Produce quality program/project progress reports per donor & IR standards.
Prepare monthly/quarterly/other OSP reports as required by management;
Prepare a learning document with the most important field case stories.
Translate images, drawings, greeting cards, etc.
Upload APRs to Al-yateem;
File sponsored children, event reports, visit reports, schooling reports, etc.
Other-10%
Administration tasks
Supporting and maintaining procurement processes
IRB-compliant record-keeping system/documentation.
Regular financial monitoring and transition ensures value.
Facilitate external/internal audits;
Willing to travel for long periods and to remote project sites.
Ensure the safety of team members from harm, abuse, neglect, harassment, exploitation, Fraud, Bribery & Money Laundering to achieve the program's goals on safeguarding implementation. Act as a key source of support, guidance, and expertise on safeguarding from harm, abuse, neglect, harassment, exploitation, Fraud, Bribery & Money Laundering for establishing a safe working environment.
Participate in seasonal (Ramadan, Qurbani) and emergency activities.
As a member of Islamic Relief, a child-friendly organization, each staff member must understand and observe the Child Protection & PSEA Policy and respond accordingly.
Perform other line manager duties.
Workplace: Spend time at the office.
Educational Requirements: Masters degrees include Master of Development Studies (MDS), Master of Social Science (MSS), and Masters degrees in any other field.
Experience Requirements: At least three years ago (s)
Extra Needs
Intervention experience in the areas of child welfare, child rights, and economic development
Proficiency with Microsoft Office (Word, Excel, and PowerPoint) and the Internet (at a very basic level).
Possess superior English and Bengali linguistic abilities across the board.
the ability to facilitate
Capability in Coordination, Advocacy, Networking, and Communication
Documentation and Reporting
Competence in Keeping Tabs and Taking Stock
Controlling finances
competence in making decisions
Competence in resolving conflicts
Leadership ability
Self-development
Ability to solve problems
Abilities in forethought, analysis, and organization
Work well under stress and handle multiple tasks with ease
Positive, productive, and a strong contributor to the team.
Having a steady state of mind
Flexibility of Characteristics
You'll need to be comfortable riding in rural regions and have a valid motorcycle license.
Candidates who are disabled are strongly encouraged to apply.
Salary range from Tk. 31793 to Tk (Monthly)
Salary and Additional Perks
Cost of mobile phone service, travel reimbursement, PF, holidays (every week), insurance, and bonus
A Bonus of One at the Festival:
Additional compensation and benefits will be granted in accordance with the company's human resources policy.
Please Read
Please refer to the job description posted on our official websites for further information (islamicrelief.org.bd). Applying is strongly encouraged for women. A committed equal opportunity employer, however, Islamic Relief Bangladesh values diversity in the workplace. We welcome applications from anybody who meets the requirements listed above, regardless of their race, family or marital status, ethnicity, age, disability, social class, caste, or religion.
Follow the Protocol
Candidates should download the Application Form from our official website (islamicrelief.org.bd) and email it to [email protected] by the deadline if they believe they meet our requirements in terms of education, experience, and exposure and are willing to commit to our values and are sympathetic to our beliefs. In the subject line of your email, type only the "Position Name." Only those who make the initial cut will be contacted for the next stage of selection.
The submission deadline is August 6, 2022.
Company Information
Islamic Relief Bangladesh
Address: Bangladesh Country Office: House # 10, Road # 10, Block-K, Baridhara, Dhaka-1212
Web: islamicrelief.org.bd
Commerce Islamic Relief Worldwide (IRW) was founded in 1984 in Birmingham, UK. It helps the world's most vulnerable individuals combat poverty and suffering without expecting anything in return. It signed the ICRC's Code of Conduct.
IRW is in 45 nations. Individuals and institutions such as DFID, EU, SIDA, CIDA/IDRF, Forum Syd, WFP, UNDP, and ECHO donate to the organization.
Islamic Relief(IR) began operating in Bangladesh in 1991 to help cyclone survivors by delivering immediate aid and promoting community rebuilding. It began with emergency relief and disaster preparedness. Later, it extended humanitarian and development programs. Now it combines emergency humanitarian aid, short-term work opportunities, shelter support, awareness & training on DRR, climate change, development, health & hygiene, and social issues, cash grant, IGA means, health & nutrition, safe water & sanitation, education, advocacy, and linkages with different service providers. IR is an open and transparent registered charity that constantly evaluates its activities and operating techniques to improve impact and effectiveness.
IRB is committed to preventing sexual harassment, exploitation and abuse, lack of integrity, and financial malfeasance, and to improving the welfare of children, young people, adults, and beneficiaries with whom it works. IRB expects staff and volunteers to follow our code of conduct. We exclusively hire people who share and exemplify our beliefs. All job offers are contingent on references and screening procedures, including criminal background checks. IRW participates in IAMDS.
In accordance with this Scheme, we shall ask job applicants' past employers about any sexual exploitation, abuse, or harassment during employment, or instances under investigation when the applicant left employment.